VENICE, CA (August 1, 2013) – Not Maurice is thrilled to announce that its marketing strategist and co-founder, Catherine Chevalier, was installed as President of the Venice Chamber of Commerce for the 2013-15 term on July 24th. LA Councilman Mike Bonin swore in the new President, officers and Board members at a ceremony held in conjunction with the organization's monthly business networking event.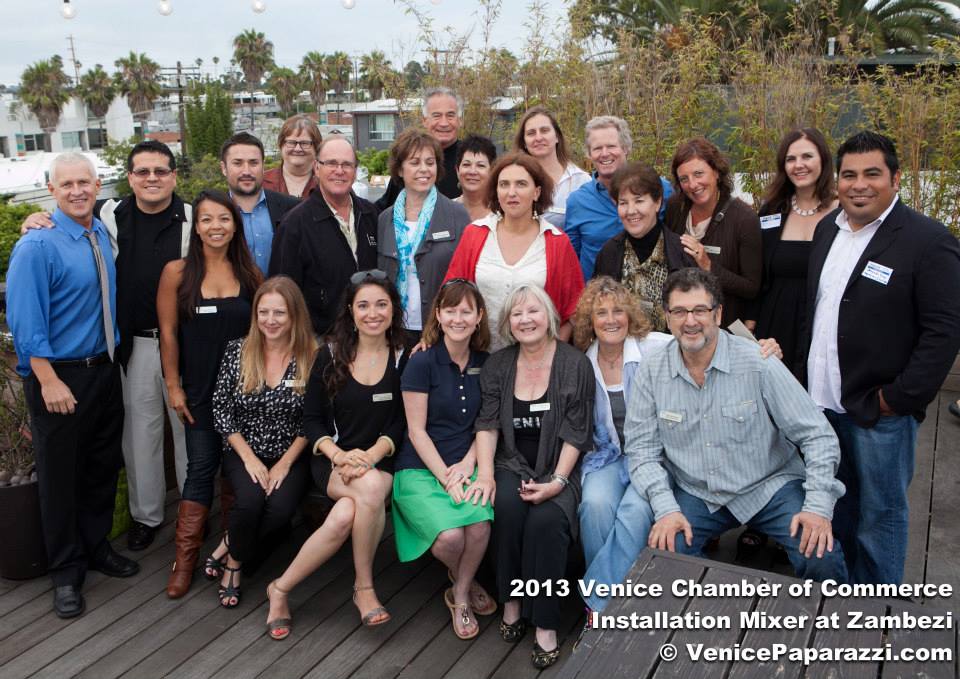 "Becoming President of the Venice Chamber of Commerce is truly an honor as well as an exciting leadership opportunity," says Catherine. "I look forward to working closely with our volunteers, committee chairs and Board members to continue the transformation of the Chamber into a vibrant group of leaders that is eager to serve our local business community."
Catherine's term as Venice Chamber President is off to a great start so far. In her first day on the job, she attended a gathering of business leaders organized by new Los Angeles Mayor Eric Garcetti, and was interviewed by an ABC-TV local news reporter.
She began her relationship with the Chamber as a member of the Venice Media District (VMD) committee in January 2007, supporting the promotion of local media companies with her marketing skills. After taking on a co-chair role, she became a Chamber Board member in July 2008. From September 2009 to June 2012, Catherine chaired the Marketing Committee, spearheading efforts to overhaul the organization's website and general marketing efforts. Last July, she was named vice-president of the Chamber and joined the Executive Board to support the revitalization of the Venice Chamber as an irresistible place to network for local business owners and entrepreneurs.
"I am proud to confidently hand the gavel over to Catherine Chevalier," says outgoing President, Alex Rosales, owner of Control Printing. "Catherine's wealth of leadership and creative marketing experience has been instrumental in developing and executing a comprehensive marketing strategy that has increased the Chamber's web presence, expanded our social media network, streamlined our email communications and strengthened our awareness in the Venice community over the past three years."
Looking forward, Catherine says, "In the coming years, it is critical that the Chamber embraces the rapid evolution of Venice and its business community to stay relevant to its member needs and continue its grass-roots efforts to promote the Venice brand as 'The Creative Soul of L.A.' In my role with Not Maurice, a creative marketing agency based in Venice, I feel very blessed to be amongst the creative icons, artists and visionaries who make Venice a unique place to live, work and play."

About the Venice Chamber of Commerce
The Venice Chamber of Commerce is an organization of business leaders who actively serve as advocates for the ever-growing Venice business community. Through dynamic networking events and diverse committees, we support the interests of area businesses and contribute, to improving the vitality of the local economy; positioning Venice as the "creative soul" of Los Angeles. To learn more about the Venice Chamber, visit www.venicechamber.net.

About Not Maurice, Creative Marketing, Branding and Advertising Agency
Founded in Los Angeles in 2004, Not Maurice launched with a vision to support business owners in growing their companies by increasing sales based on powerful marketing strategies and implementation. Since then, the agency has bridged the digital and traditional marketing worlds by delivering effective strategies and creative implementation to its international clientele. The agency's affordable, results-driven marketing, branding and advertising solutions support business owners, entrepreneurs and CEOs to increase sales and take their companies to the next level. Help your company reach its highest potential…visit www.notmaurice.com.