Venice Chamber of Commerce evolves into a new dimension! By Betsy Goldman – February 9, 2012
Not Maurice excited about this website makeover that will support the promotion of the local businesses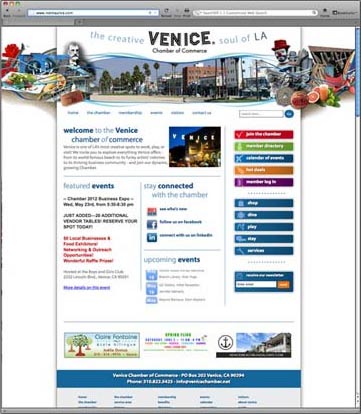 Carol Tantau, owner of Just Tantau, an eclectic gift and accessory shop on Abbot Kinney Boulevard, has been a Venice business owner since the 1970 s and on the boulevard since 1982. While still active in the Abbot Kinney merchants group, she said she shifted over to the Venice Chamber of Commerce in the early 1990s because "in terms of my business I thought that was really my interest group." At the time, the chamber was "reaching out to other businesses and developing collaborative efforts that were for the common god," she adds. Then the chamber started to increase community events – Taste of Venice, Father's Day 5k and 10 k runs to name a few. Tantau started her four-year term as chamber president in 1997, at a point where "we were pretty visible but weren't financially successful because we created an enormous amount of debt in running all these events," she recalled. It too Tantau's full term for the chamber to reach a break-even point and the following four-year reign of former president Mary Richert to get the chamber in the black. "We started treating the chamber of commerce like we would treat our own business," she says. It's been demonstrated through the history of the Venice Chamber of Commerce that the challenge to offer benefits to members is dependent on the ability to pay for them.
"I'm very excited about what is happening now," says Tantau. "Hiring an executive director last year pushed us into another realm. As our membership increases, our ability to provide benefits to members will increase as well. It is also about having a collective voice to preserve and protect business in our community and to see the big picture of the well being of the community in general." Current chamber President Alex Rosales is an aficionado of aphorisms. He quotes "a rising tide lifts all the boats" credited to President John F. Kennedy, to explain where he sees the future of Venice businesses. "A better local economy is beneficial to everyone," he says. "We all benefit doing it together."
There are plans to make this happen. A business expo will take place later in the year to showcase member services and products. A morning networking mixer started this past year. A new Member Rewards Card Program will encourage members to do business together. The objective is to improve business by allowing a company to reach a much broader audience by giving a group discount for chamber members.
A new chamber website recently went live with a customized design by Patrick and Catherine Chevalier of Not Maurice, a creative marketing, branding and advertising agency, incorporating ease of navigation. The site aims to represents as a beachside community, rich in creativity and vibrant in business and reflecting what the Venice Chamber of Commerce is about. Members say the chamber will highly benefit from a renewed online identity, the integration of new tools to better serve its members and provide relevant information to those in search of resources that member provide. They say the new website will increase business opportunities for members and contribute to strengthening the vitality of the local economy. All businesses are listed in the online business directory where information is available to consumers and visitors can search by categories, keyword or alphabetically. Deals include store coupons and special-offers on the website, and there s-coupons will be from participating businesses in the Member Reward Card Program.
Have an event coming up? Post your event on the website and it will be listed in a monthly email newsletter. Have a job opening? Post your job description online and support the local economy.
"The goal is to provide a flexible, appealing website that is welcoming to visitors, contains general information about the chamber, highlights member events and promotions, and offers a broad overview of the Venice area," says Chevalier. "The primary objective is to increase publicity for our members and to generate interest in our organization." The mission of the Venice Chamber of Commerce is to promote and improve the local business economy. "Right now in view of the state of the economy, we have to be more self-reliant in order to improve our local economy so the local business and the community as a whole will prosper – and the way to do that is to get involved in your local chamber of commerce," says Rosales. "If you want to see any change, if you want to see any improvement, you have to get involved – and one of the best mechanisms for that is to support the chamber of commerce."