At Not Maurice, we are really excited to showcase Fresh Air Environmental, Inc website makeover.
Below you'll discover the dramatic evolution of their home page design.
Fresh Air Environmental is a company providing environmental remediation services in Southern California. They have been serving businesses and individuals for more than a decade and have successfully completed thousands of asbestos, mold and lead removal jobs in Los Angeles and Beyond.
The objectives of the website makeover consisted in:
- Creating a professional online experience for the visitors
- Delivering a trustworthy and reassuring feel
- Differentiating the company's services from the ones performed by their competitors
- Presenting the options in terms of services and doing it in a very clear and detailed manner
- Offering a convenient sign-up process that will facilitate the lead generation process
Home Page – Before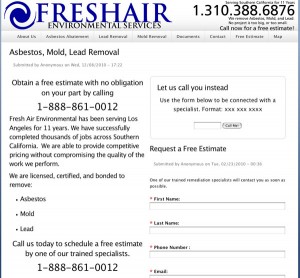 Home Page – After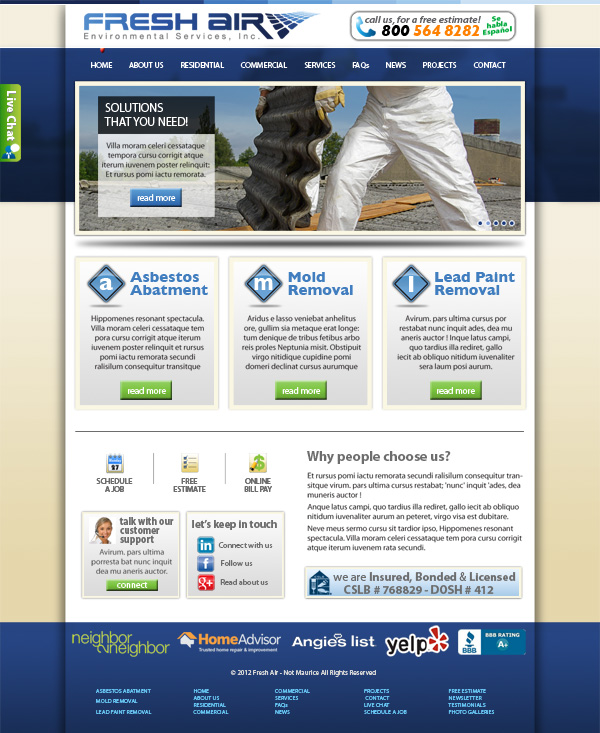 Are You Considering a Makeover for Your Company Website?
Whatever your goals, our website makeovers will help you transform your website into an effective marketing tool that will definitely increase your online credibility and visibility.
Please contact us to for a complimentary consultation and we'll be happy to provide options for making-over your website.